This post is loooong overdue! We have visited this place way back first week of September and almost forgotten to post it.
Cafe Juanita is a Filipino restaurant with an initial branch at Kapitolyo, Pasig. I can't remember the first time I went in this restaurant but I can remember though the ambiance and how the place was decorated. Antiques are everywhere and dining tables are not identical or uniform. It was designed (I guess) that way and it's surprising looks homey! The feel of having lunch in your own dining room is very much alive. If this homey feel is present in Burgos Circle branch, I don't know for we opt to dine outside and because I am already so hungry
(I can eat a cow)
, I did not go inside anymore.
It was not a pig out and do-not-go-home-until-you-cannot-stand-anymore lunch that we ordered just a few from their menu.
First off, Dalandan juice. Refreshing and freshly squeezed. It was B who ordered this drink. TRIVIA: I don't normally order flavored drinks when I dine out. I like to eat my food with just plain water. I drink juices, shakes or any beverage for that matter on its own. *wink*
Who would ignore a Crispy Calamari?
Tender squid with a tasty and crispy breading. Love the dip too!
Since I am curious with how Sinigang na Corned beef tastes like, we ordered one.
This big serving is good enough for two. They actually let you taste the soup first before serving, just to make sure that you are satisfied with the taste of the soup - the sourness, and saltiness of it. Amazing huh? Or is it because that was the first time I have experienced such? Is it normal in other restaurants? Do tell!
The soup has the right sourness to it and an aftertaste of sweetness. B loved the soup! Just between you and me, I'm close to calling her "Soup Girl" for she loves soups, any kind of soup I think. Maybe one day she'll have her own blog too with the title " The Soup Girl" LOL!
Okay going back, when this dish arrived, my eyes went wild!
Amazing presentation of a Deep Fried Lapu-Lapu, an imitation of a freshly catched fish. Lapu-Lapu was breaded with a hint of beer. It comes with a sweet and a little spicy tamarind sauce. Interesting dish.
Since only two women are eating all the food mentioned, we were not able to finish them. Even if we are dead hungry, the servings are just too many for our stomachs to contain. We requested for the leftovers be packed and shared it with friends at OCCI!
Cafe Juanita Burgos Circle
Fort Bonifacio
+632 4031952
This post is also linked to Weekend Blog Follower Caravan #23 with a theme Facebook likes. This is my first time to join this meme and I am excited to meet fellow bloggers and to advertise my FB page as well. If you haven't liked it yet, please do and let's share food stories! Here is the link to my FB page: http://www.facebook.com/mytwistedrecipe or just click
here
.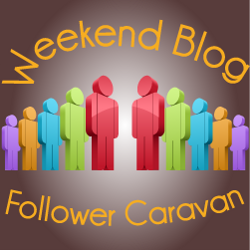 This week's sponsors are
Pink Memoirs
and
Postcard Enthusiast
.
Weekend Blog Follower Caravan is a simple online blogger-helping-blogger weekly meme. It was designed for bloggers to help each other
(especially new bloggers like me)
in terms of blog followers either through Google Friend Connect and email subscribers.